: is a weekly art/video/audio event held in WATERLOO, an art-space in Berlin's Kreuzberg district.

Please click on the when? to view details of upcoming AV Format events and workshops.

Summer Holidays - Thursday Nights with AV Format are on a Summer break. But we do have other events planned - parties, workshops etc.
AV Format: Liam Slevin is an artist, curator and arts project developer from Cork, Ireland.

David Gordon is a filmmaker and writer from Cork, Ireland.

They both live in Berlin.

AV Format has hosted work from Aideen Barry, David O'Reilly, Damian Drohan, DuckRabbit, Dylan White, Anna Byrne, Mehdi Messouci, Richard Schut, Daniella Koeffler, Veronika Obertova, Matan Yaniv, Dane Joe, Yaniv Schonfeld, David Grannell, Amy Stephenson, David Murphy, Jonathan Sammon, Shane Sutton, Barry Grant, Kevin Margo, Bo Mathorne, Shahir Daud, Sam Huntley, Joost Lieuwma, Úna Quigley, Robert Manson, Francisco Esteban Navarrete Sitja.


WATERLOO is a cosy little multi-purpose art-space on the banks of the Landwehrkanal in Kreuzberg. It is on located on the Waterloo-Ufer side of the canal, right on the water's edge close to the Hallesche-Tor-Brücke. The Hallesches Tor Ubahn station is a minute's walk from WATERLOO.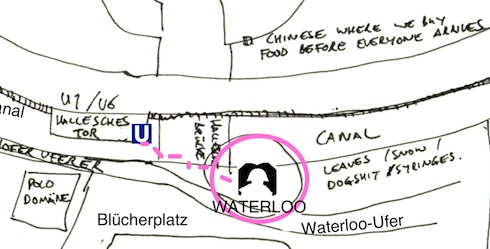 8Bit Glitch Party ::: =8BiTcH GL33TCH SPACECRAFT R4V3 with more info here.
Friday 28. June 22:00 ::: 4,00 EUR entry.

AV Format Workshop Series ::: Data Bending with tutor Yaniv Schonfeld
Sunday 30. June at 14:00 ::: 20.00 EUR.

To book you place on the Data Bending Workshop please follow the Paypal Button to a payment page. A 10 EUR deposit secures your place. The remaining 10 EUR must be paid in cash on the day of the workshop.


Befriend
AV Format
on Facebook or like
WATERLOO
to keep abreast of our events.
If you would like to present your work at AV Format please email us format [at] berlinichliebedich [dot] com